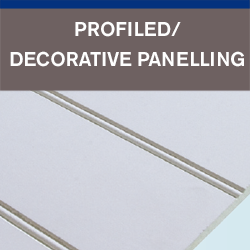 INSTALLATION GUIDE
Neatmatch - Installing on an even wall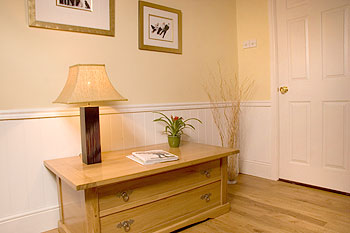 Neatmatch is the labour saving way to cover walls and ceilings with the appearance of tongue & groove panelling.
In the following sequence of photos we show how easy it is to install wainscot wall panelling, which is typically 800mm high or for the fuller look 1200 mm high. It is used in traditional and contemporary interiors and can be finished in a variety of ways to suite any room setting.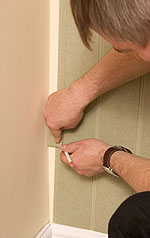 1
First, hold the wainscot panel on top of the existing skirting board with the beads vertical. If the adjacent wall is out of line, scribe at the corner of the room. Saw off a slither of wainscot to the scribed line to achieve a neat junction. A small off-cut of MDF was used here, but callipers or other equivalent tool is ideal.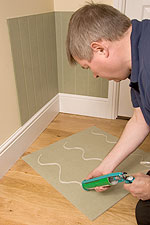 2
Apply a good quantity of adhesive to the back-side of the panel. Many gap-filling adhesives are available from most DIY outlets and builders merchants.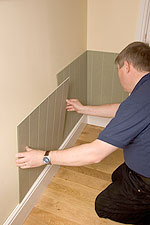 3
Position the panels against the wall, and apply sufficient pressure to ensure a good bond, checking periodically for vertical alignment.
Leave a 1mm gap between panels in interior applications to allow for seasonal movements in the MDF. The gaps can be sealed with flexible filler.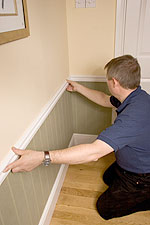 4
When all the panels are bonded to the wall, cap the top of the wainscot panels with a cap moulding or dado rail.
Mitre the corners or scribe the shape of the moulding on the adjacent cap moulding to ensure a good fit.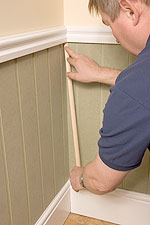 5
Apply corner mouldings to corners to cover any gaps and protect any external corner.
These mouldings are not necessary if the boards are abutted. Some flexible filler at the joint may complete the job.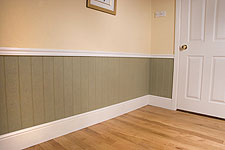 6
The finished job is ready for painting, which should be done as soon as possible after installation. Panel surfaces should be dust free and dry before applying a good quality primer. The first coat should be applied by brush to ensure 100% coverage.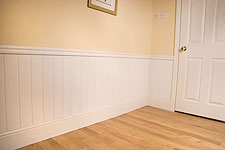 7
The finished job will look great after applying a top quality paint. These can generally be applied with brush or roller, but do follow the paint manufacturers' recommendations.